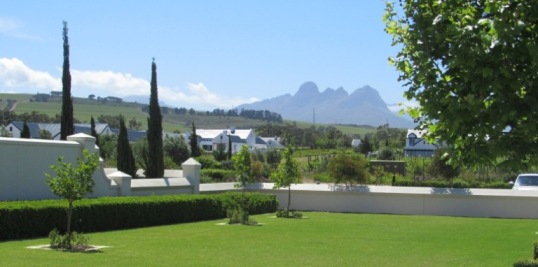 CAPE PLOT & PLAN
ABOVE - CROYDON VINEYARD ESTATE PLOTS: This plot comes with an architect house plan of about 350sqm. The land lies in the fabulous Cape wine region with views of the Somerset mountains. These Cape erven range in size from 500 to 917m˛ and range in price from R750 000 to R1 100 000. The estate has a beautiful club house with sparkling 25m pool. Many plots come with architect designed house plans. contact: infopropsmart@gmail.com for more information
MORE FEATURED PLOTS - Raithby Vines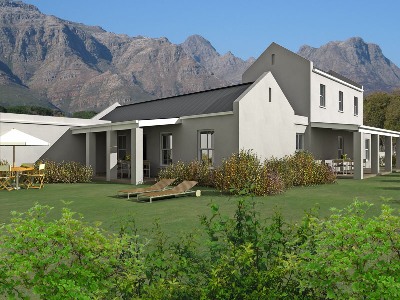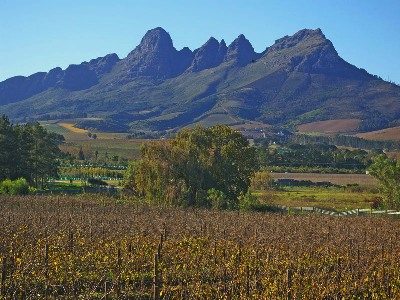 YOUR VIEW - PLOTS FOR SALE AT RAITHBY VINES
To enjoy this stunning view of the Helderberg in the winelands of Cape Town contact:
infopropsmart@gmail.com
Raithby Vines is a small new cluster of 17 erven that have recently been launched just outside of Somerset West. The plots are situated among the vineyards and blessed with beautiful views of the Helderberg and surrounding mountains.
The nearby village of Raithby , centres around the church and the school and while being very central, retains the charm of a rural area. Raithby Vines is close to many famous and excellent restaurants as well as several wine estates and Somerset College school. Cape Town International Airport is only 15 minutes away, while Somerset West and Stellenbosch are only a 10 minute drive. The developers wanted the cluster to blend well with the quiet, safe and rural village atmosphere, hence the low farmhouse front walls and Cape vernacular architectural style.
There is no access control but a single entrance and boundary fences will ensure restricted access. The idea is that the cluster should be integral to the village – which is renowned for its low crime rate and rural, safe atmosphere – also keeping monthly running costs for home owners as low as possible.
There are various plot-and-plan options available as well as "Turnkey" packages. It is also possible for the purchaser to buy the plot and manage the builder and architect themselves, as long as the Architectural Guidelines are adhered to.
With plots for sale ranging in size from 626m˛ to 1320m˛ (starting from R645 000) there is wide scope to find a property that will suit your taste.
The plots are selling fast, so please visit the official Raithby Vines website for more comprehensive information, about how you can claim your stunning piece of the winelands!
infopropsmart@gmail.com
ADVERTISING ON PLOTS FOR SALE CAPE TOWN
Listing on PLOTS FOR SALE CAPE TOWN. COM, is free for the first 6 months - don't worry, we will be sure to ask you if you find the service useful and wish to enroll for paid listings together with options available. No response will automatically deregister you with no costs incurred.
Send us information about your plot: the size, the price, and any photos of the plot. We will gladly add a listing of your plots, and help make the sale of your plots a pleasure.
WIDE SELECTION OF PLOTS IN CAPE TOWN
Plots for Sale Cape Town, is an exciting new web concept dedicated specifically to showcasing plots for sale in Cape Town and surrounding regions. Prospective buyers looking to build in Cape Town, will be met with vast quantities of information on property on property sale websites and would normally have to filter through many built properties in order to find vacant plots for sale. Now, "plots for sale Cape Town. com" powered by Prop Smart Property Marketing, makes it easy to compare plots for Sale in Cape Town.
We also feature plots of sale in Somerset West, Paarl, and Stellenbosch, including plots for sale in Wine Estates, Golf Estates and other popular security Estates in the Cape.
partner sites:
For architects in the cape region, see stellenbosch architects. For a list of south african architects see residential architects. For modern residential architects see modern residential architect firms, see modern architecture firms .